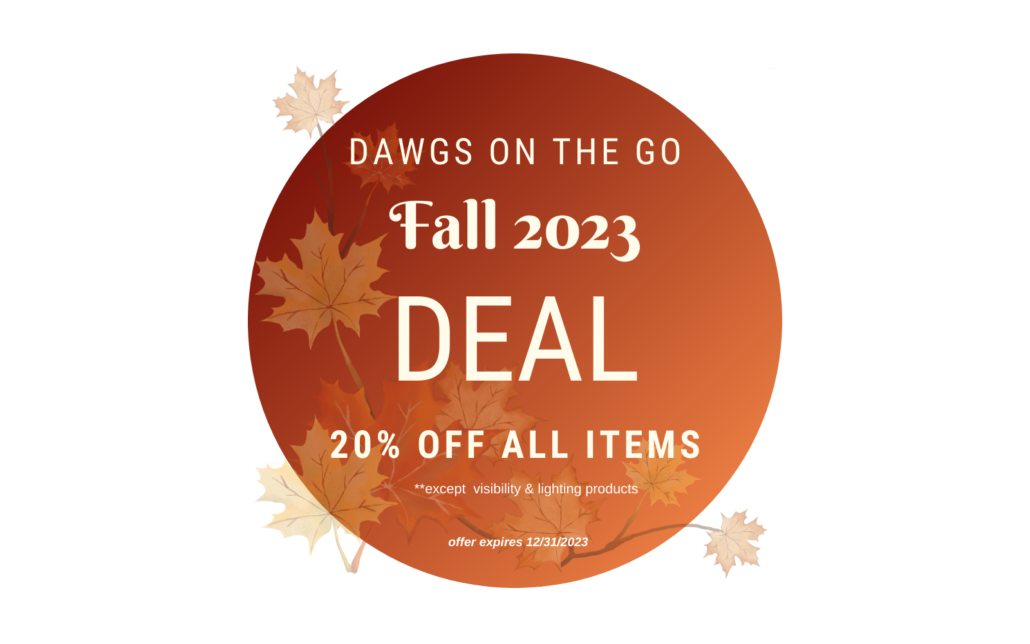 Dawgs on the Go Fall 2023 DEAL!
So happy it's cooling down!
Hey, Guys, this is Ellie Mae at Dawgs on the Go.
So, it's actually starting to cool down a wee bit here in Tampa Bay, we are down about 10 degrees on average!
Now that the weather is nice again, I figured y'all deserve a deal. 
So, everything on our website is on sale.
Yes, everything is 20% off.
**with the exception of personal visibility and lighting products.
The deal runs through December 31, 2023.
You may not know this, but a Dawwgie GoPak is the perfect accessory for active dog owners,
I have seen so many people fumble with their phones, keys, poop bags, treats, and other items when they are running out to take their dog for a walk.
They stuff them into various pockets – stashing them here and there – and then forget where they put what! 
And, when doggo decides to do his or her job, they reach into the pocket and pull out their phone, or keys! 
Or, when their phone rings, they pull out a roll of dog poop bags instead!
It's actually really funny to watch sometimes.
And then, they have to stuff the roll back into a pocket and try to find the phone while holding on to an excited pooch that wants to get social with his or her friends!
Sounds like fun, doesn't it?
And, then, there are times when they forget to bring poop bags. 
And guess what? That's when doggo decides to go the neighbor's lawn!
Yup.
So it's a mad rush back home, dash inside, grab a roll of bags, and run back to the offending spot to scoop up the poop, praying that their friendly neighbor did not notice.
Ever happened to you? Ever been caught unprepared without a poop bag?
Do yourself a favor and get a Dawwgie GoPak.
You will thank me!
The Dawggie GoPak is made of lightweight nylon with multiple pockets to store various items.
It easily clips or attaches to most leashes.
It's available in various colors and designs and makes your walks with your best friend easier and dare I say, a mite less stressful?
Stay safe and mind your local health authorities and follow what they tell you to do to keep yourself and your loved ones safe.
Here's wishing all you cooler times ahead.
Woof Woof.
Ellie Mae!